Dear Niece,
You are rockin' those sun glasses.
Dear Disney Cruise
, 24 days and counting!
Dear Friends
, I am planning an entire week of Disney themed guest posting the week I am gone- September 16th-22nd! SO MUCH FUN!
Dear Husband
, Going through bin after bin of papers to try and find your birth certificate was no fun. AND we didn't even find it... eh...
Dear Blogs or Shops
, Use the promo code FRIEND and get 10% off of any advertisement found
here
.
Dear Starbucks
, Can you not be so addicting? As soon as my husband got home from work I grabbed the keys while I was still in my pajamas (ha, it was my day off, don't judge) and took off to visit you and get your carmel frap that I was craving all day. True Story.
Dear House
, Why is it that no matter how much I try and keep you clean as long as I can, it never lasts more than a day?!
Dear Taylor Swift
, You new song "We are never ever getting back together" is SO catchy, but I feel a little silly singing it.
Dear Facebook
, Why do people use you to post stupid status' about drama in their life. Can you tell them to GET A BLOG ALREADY!!!
Dear person who drives the speed limit in the fast lane
, You obviously don't know the rules- When I tailgate you, it means MOVE OVER.
Dear Self
, I feel like I am letting off some steam tonight LOL.
Dear Readers
, I seriously LOVE reading your comments, emails, tweets, and so on. DON'T EVER STOP :)
Dear Self- again
, Lay off the CAPS ;)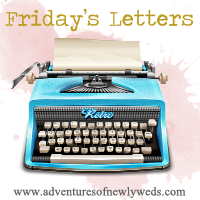 Post Sponsor for July: