Dear Sister
, Thank you for taking the time to take pictures of me so I could update my buttons and pictures on my blog! Even though I had to force you out of bed, I still appreciate it! HA.
Dear beautiful niece,
the whole crying to be held thing that you recently started doing... it works on me ;) I can't say no!
Dear Fabulous Readers
, You totally made my day with your comments on my post "
Can't we all just get along
", we seriously have an amazing blogging community!
Dear Weight Watchers,
It's my first week with you, just a couple days in and I have already lost 4 lbs. yay!!
Dear DSLR owners
, have you checked out my
shop
filled with lovely camera strap covers yet? You can check it out
here
.
Dear Husband
, You have no idea how much I love and appreciate the fact that you are my biggest fan. I LOVE our talks and concerts in the car- you can make a sick beat for sure lol.
Dear Brooke from Covered in Grace
, I am sooo excited to be linking up with you for your Talent Vlog. My husband, sister and I got together and are singing Demi Lovato's Skyscraper, HA, It's a little silly, but fun none the less.
Dear New GFC Blog Hop
, 258 Linkups, OMG! It went so well I am going to have you every Tuesday and I have cohosts booked through August. INSANE!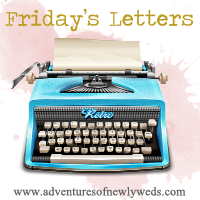 Post Sponsor for June: